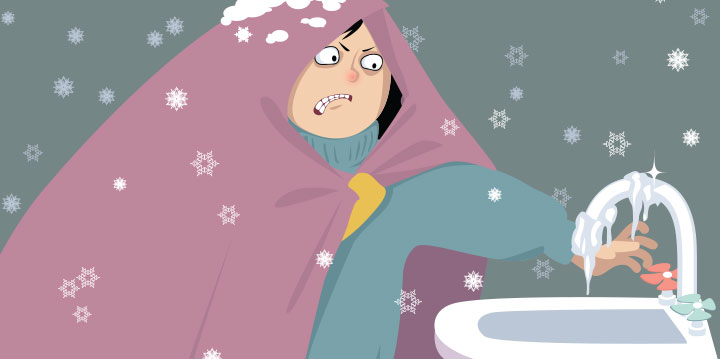 Extreme weather conditions are an inevitability this time of year. Temperatures drop, the ground freezes. Snow and ice can limit mobility. But, perhaps, the worst thing that can happen to us in our homes at this time of year is frozen pipes.
The Insurance Institute for Business and Home Safety estimates that thousands of dollars are spent every year on damaged or broken pipes. Water damage and destroyed property are just some of the damage that can be done by frozen and broken pipes. Pipes that are most vulnerable are found in the unheated or exposed parts of our homes – places like basements, attics or garages.
The positive side to all this is that there are fairly simple and inexpensive ways to ensure that your pipes working properly.
Keep Your Heat ON
This is as straightforward as it can get. If the heat is on in your home, whether you're in it or not, your pipes should stay fairly warm, allowing water to continue to run freely. This will prevent burst pipes and water damage.
Allow the Faucet to Drip
If you grew up in Western, PA (especially in the Pittsburgh area) you've no doubt had a parent or grandparent tell you to keep the water slightly running or dripping in your sink. This relieves pressure on the system and keeps your pipes from bursting. If your faucet runs both hot and cold water, allow both to drip at the same time.
Seal Up Holes and Cracks
Caulk or spray foam insulation is a great solution to fill gaps in and around walls or doors. Seal both interior or exterior holes and gaps. Cold outdoor air can make naturally cold places THAT much colder.
Trust the Experts
Armstrong Comfort Solutions is your best choice for all your plumbing needs. Our team of plumbers are trained on every plumbing problem you may encounter in your home or business.
If ever you find yourself in a plumbing crisis, we're available 24 hours a day, 7 days a week. And we guarantee 100% customer satisfaction.
If it's a plumbing emergency, please call us at (833) 789-9100.