Times have certainly changed for drain line repairs. The days of digging a deep trench through finished landscaping, driveways, and lawns is over. Sewage pipes are being repaired without digging, with Trenchless Sewer Repair, a technique Armstrong Comfort Solutions + Matt Mertz Plumbing have been perfecting for years. What is trenchless sewer repair, you ask? Trenchless sewer repair is a minimally invasive state-of-the-art process that restores existing pipes to like-new condition by relining the existing host pipe with a PVC liner.
The Initial Inspection
First, pipes are inspected with a sewer camera to determine the pipe's condition, size, and length. Next, cleaning of the host pipe is often required before a liner can be installed. Then, roots and debris are removed with a hydro jetter. Finally, once the lines are clean, the liner installation process can begin.
The Installation
The new liner is installed from a small access hole or through an existing clean out. The liner is measured, cut to the appropriate length and then impregnated with a two-part resin. The liner is then installed into the line either by air inversion and or it is pulled into place. The liner is inflated and allowed to cure by ambient air, steam, or UV light. Once cured, the liner is inspected, and the pipe is back into service. The whole process takes as little as four hours and leaves minimal to no footprint.
What are the Benefits of Trenchless Technique?
Trenchless sewer repair is minimally invasive. Complete residential plumbing lines are restored without damage to existing property. The trenchless approach often saves customers thousands of dollars in restoration costs alone on any given project. This trenchless technique eliminates the need for dangerous excavations and road and/or driveway repairs. Traditional excavation costs can add up to double or triple the cost of trenchless repairs. Excavation also takes longer and often requires significant repairs and restoration after the repair work is completed.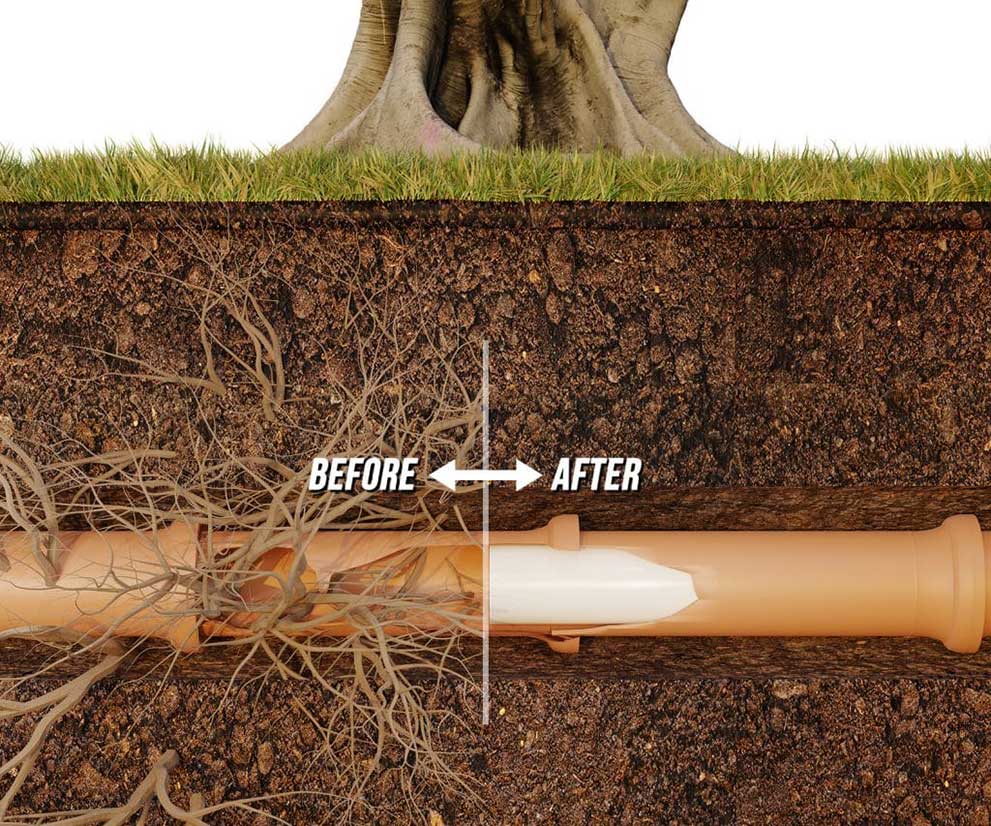 Unmatched Toughness
Many sewage liners carry a 50-year service life expectancy, backed by the manufacturer. Armstrong Comfort Solutions + Matt Mertz Plumbing customers can feel confident knowing that once they choose trenchless, they will not have to make any further repairs in their lifetime. Trenchless liner is considerably stronger than direct burial piping. The installed liner is seamless, no joints or fitting to leak or fail.
Environmentally Responsible
Choosing a trenchless pipe liner is a responsible choice for the environment. It eliminates the need for excavators and equipment that use large amounts of diesel fuel and pollute the air. The liner also seals the host pipe and prevents sewage from leaking into the surrounding soil. The minimally invasive trenchless process creates a far less carbon footprint than traditional excavation.
Interested? Contact us for more information.
The professionals at Armstrong Comfort Solutions are trained in the latest trenchless sewer repair technology. We have plumbing professionals ready to provide a free estimate for your home or business's trenchless sewer repair project. Call (833) 789-9100 or request an appointment online.