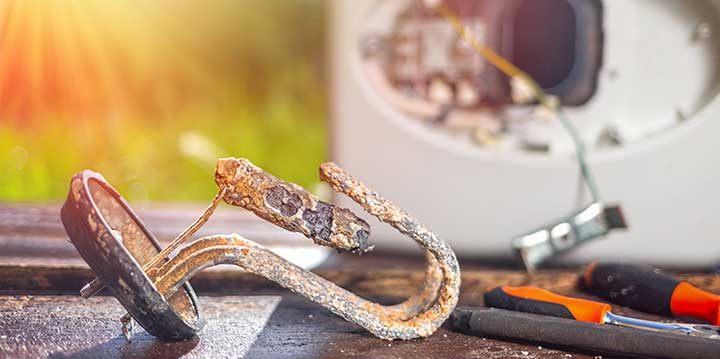 Winter may be mostly behind us but having hot water in our homes is a necessity year-round. A broken water heater can be a time-consuming and costly problem.
Recognizing the signs of a water heater in distress, and knowing what to do about it, is the best way to avoid a full-blown water heater "meltdown."
Sediment buildup, rust, and high water pressure are some of the most common causes of water heater failure. Improper installation or equipment sizing are other commonly found issues. A leak can occur near the supply line which can cause damage to dry wall or flooring.
Like any appliance, frequent checks can prevent your water heater from becoming a big problem. Try to set an annual reminder to check for water pooling around your water heater and to tighten any loose fittings you might find. The quicker the issue is resolved, the less damage it will cause in the end.
If you do find signs that your water heater is broken or about to burst, the first thing to do is to shut it off. For gas water heaters, twist the dial at the top of the thermostat from ON to OFF. If it's an electric heater, switch the circuit breaker to OFF.
Once the water heater is turned off follow these steps:
Turn off the water supply.
Completely drain the water heater.
Open the pressure relief valve.
Rinse the water heater with cold water when the unit has finished draining.
Armstrong Comfort Solutions is your best choice for all your plumbing needs. Our team of plumbers are trained on every plumbing problem you may encounter in your home or business.
If your water heater breaks, call the professionals at Armstrong Comfort Solutions right away. We're available with 24/7 on-call maintenance and emergency service.